Narcéte versione originale, Italy, 2008

Edizioni.

Narcéte – book, Alternating Current, Palo Alto CA – (USA), 2011

Narcéte – cd, Poems: E. Dagnino Music: S. Pastor / G.Haslam/ S. Waterman, Slam 542 - UK 2012

Fourth Movement, da Marble What, di E. Dagnino
per Nomad's Choir, Poetry Journal, Spring 2017 – Vol. 25 Issue 2,,NY, USA.
Traduzione in collaborazione con E. Telese e B. Heman.
E' edito per Edizioni CSA , Castellana Grotte , Ottobre 2015
il libro di Poesia 'CON CIELO ESTIVO', E. Dagnino.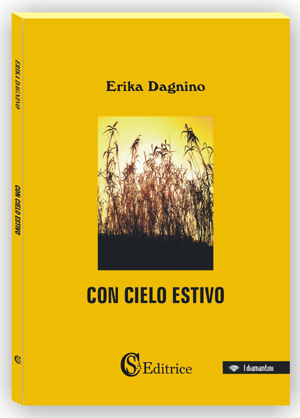 Leggi breve estratto - Per ulteriori info

Erika Dagnino's Canti of the Eye on National Translation Month, September 2016
- Dieci canti tratti da 'I canti dell'occhio', E. Dagnino, Edizioni CSA, Italia 2009, editi in inglese
- tradotti in collaborazione con Emilia Telese -
per la rivista 'Snow', Lewes - UK, Spring 2015, (in pdf i dieci canti in versione originale, e presentazione e indice della rivista).
- from Walls, VI Movement, on First Literary Review-East , January 2015, New York, USA
- Dal fondo del metallo, Parte Seconda, Canto I, InEdition, Bologna, 2009
- Dal fondo del metallo, Parte Seconda, Canto VI, InEdition, Bologna, 2009
- I canti dell'occhio, Canto XX, CSA, Crotone, 2009
- I canti dell'occhio, Canto XXIV, CSA, Crotone, 2009
- Canto VII from Canti of the eye, on First Literay review-East , 2011, New York, USA
- Excerpts from Cycles (poetry E. Dagnino, music S. Pastor)
- da – Lettere da Lewes – in Dal Fondo del Metallo, Parte Terza, in Edition editrice, Bologna, Italy, 2009